Access Is Love aims to help build a world where accessibility is understood as an act of love, instead of a burden or an after-thought. It is an initiative to raise awareness about accessibility and encourage people to incorporate access in their everyday practices and lives.
We invite you to share resources about Access Is Love. You can support by doing some of the basic suggested access actions, buy a shirt or read some of the great links we have put together as a starting place. We welcome you to continue a conversation on access, solidarity, and disability justice as a practice of love by using the hashtag #AccessIsLove on twitter, facebook, and instagram.
Access Is Love was inspired from, the opening keynote of the 2018 Disability Intersectionality Summit (Oct 2018), "Disability Justice is Simply Another Word for Love."
Support for the Access Is Love campaign is divided between Disability Visibility Project and the Disability & Intersectionality Summit. Thank you!
#AccessIsLove Created & Led By:
Sandy Ho, Mia Mingus, and Alice Wong.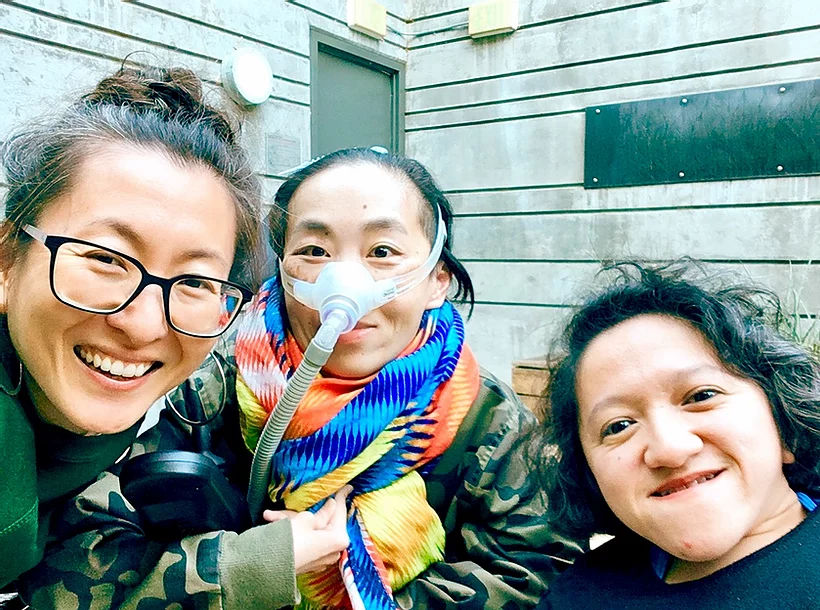 Image description: Photo of 3 disabled Asian American women, Mia Mingus, Alice Wong and Sandy Ho (from left to right). Mia is wearing glasses and large hoop earrings. Alice is wearing a brightly colored scarf and an army-camouflage-print jacket. She is wearing a mask over her nose with a tube for her Bi-Pap machine. Sandy has wavy short hair and is wearing a black sweater. Behind them is a concrete wall with a door.
Sandy Ho
Image description: Photo of Asian American woman in a wheelchair smiling up at the camera holding an ice cream in one hand. She is wearing a puffy purple coat, red scarf, and colorful pants.
Sandy is a disability community-organizer, activist, and policy researcher. She is the founder and co-organizer of the Disability & Intersectionality Summit. In 2015 she was recognized as a White House Champion of Change for her work in mentoring for transitional-age disabled women. She is a disabled queer Asian American woman. Her areas of work include disability justice, racial justice, intersectionality, and disability studies. Sandy's writing has been published by Bitch Media online.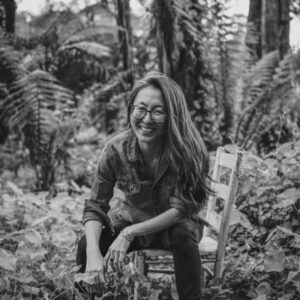 Mia Mingus
Image description: Black and white photo of a Korean woman smiling with long hair and glasses, sitting on a wooden chair with plants and trees all around her.
Mia is a writer, educator and community organizer for disability justice and transformative justice. She is a queer physically disabled Korean transracial and transnational adoptee raised in the Caribbean. She works for community, interdependency and home for all of us, not just some of us, and longs for a world where disabled children can live free of violence, with dignity and love. As her work for liberation evolves and deepens, her roots remain firmly planted in ending sexual violence.
​Read more about Mia and find her writings on her blog, Leaving Evidence.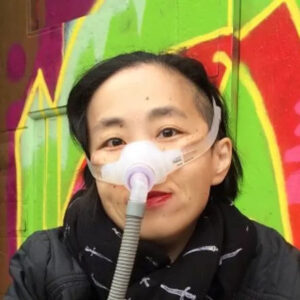 Alice Wong
Image description: Photo of Asian American woman in a wheelchair. She is wearing a black jacket with a black patterned scarf. She is wearing a mask over her nose with a tube for her Bi-Pap machine. Behind her is a wall full of colorful street art.
Alice is a disability activist, media maker, and consultant. She is the Founder and Director of the Disability Visibility Project® (DVP), a community partnership with StoryCorps and an online community dedicated to creating, sharing and amplifying disability media and culture created in 2014. Alice is also a co-partner in three projects: DisabledWriters.com, a resource to help editors connect with disabled writers and journalists, #CripLit, a series of Twitter chats for disabled writers with novelist Nicola Griffith, and #CripTheVote, a nonpartisan online movement encouraging the political participation of disabled people with co-partners Andrew Pulrang and Gregg Beratan.
Read more about Alice on the Disability Visibility Project's website.